Catalysis Investigator James Mayer Receives ACS Award in Inorganic Chemistry
(August 2017)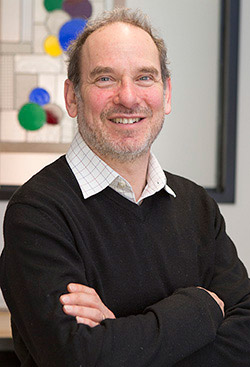 Jim Mayer, 2018 American Chemical Society Award in Inorganic Chemistry. Credit: Jerry Domian, Yale University
Congratulations to Jim Mayer of Yale University on being selected for the 2018 American Chemical Society Award in Inorganic Chemistry. Mayer is a professor at Yale University and research leader in the Center for Molecular Electrocatalysis, an Energy Frontier Research Center funded by the U.S. Department of Energy's Office of Science. The ACS award, sponsored by Aldrich Chemical Company LLC, honors his work on the coupled transfers of protons and electrons. Such transfers are vital to the chemical processes that underlie economically and environmentally friendly energy technologies, including fuel cells, solar fuels and biofuels.
In addition to his research, Mayer is a dedicated member of the scientific community. He's a prolific author who has contributed hundreds of scientific articles. Also, Mayer and co-author William Nugent wrote a 300-plus page research monograph on metal-ligand multiple bonds. He has been an associate editor of the ACS journal Inorganic Chemistry since 2001. He's given invited lectures in the United States, Asia and Europe, served on the organizing committees for international meetings and been the Chair of two Gordon Research Conferences.
Mayer has received numerous honors for his work, including being an elected Fellow of American Association for the Advancement of Science and the American Chemical Society.